SEE ALL AREA RUGS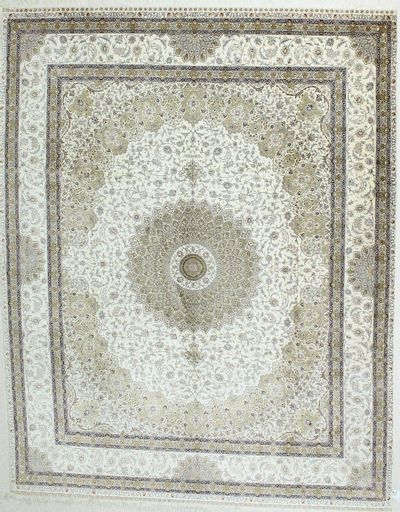 Hereke #
327
$51,564
Checking available payment options
8′3″ x 10′5″

Tribal (Geometric Designs)

Ivory

beige

Anatolian Turkish Collection
Silk Collection
Traditional
Tribal Collection

New

100% Silk

Turkey

Not Available
Hereke carpets are only produced in Hereke, a coastal town in Turkey, 60 km from Istanbul. The materials used are silk, a combination of wool and cotton and sometimes gold or silver threads.
The Ottoman sultan, Abdülmecid I founded the Hereke Imperial Manufacture in 1841 to produce all the textiles for his Dolmabahçe Palace on the Bosphorus. He gathered the best artists and carpet weavers of the former Ottoman Empire in Hereke, where they began producing high quality rugs and large carpets with unique patterns.
After completing work on the Dolmabahçe Palace, the Ottoman sultans used to give Hereke carpets as gifts to selected visiting royalties, noblemen and statesmen. It was not until 1890 that some traders in Istanbul were allowed to sell some of the pieces made at Hereke. With the end of the Ottoman Empire the production of Hereke carpets was restricted until the middle of the 20th century when some master-weavers in Hereke began once more to produce the carpets in continuation of the tradition of the Ottoman palace carpets.
As of 1920, Hereke was home to a carpet making school which was ran by the state. Both Muslim and Christian women and children attended classes.
Hereke carpets typically are very large, palace sized carpets, and are made with wool on cotton, camel hair on cotton, silk on cotton as well as silk on silk, which are knotted in small sizes. The precision of their double knots (Turkish or Ghiordes knots), which allows the clear display of patterns, together with the colour combinations and the harmonious patterns have made them highly collectible. Today, Hereke carpets and rugs are still made with the traditional patterns of the Ottoman sultan, Abdülmecid I, as well as both traditional Anatolian and contemporary figurative patterns.
We offer the best oriental rug cleaning services
We strive to make your oriental rugs look like new by providing professional rug cleaning services. We carefully inspect and clean each rug, using the best equipment and eco-friendly cleaning solutions. All of our work is done in a fast and efficient manner, without sacrificing quality or durability.