Professional Rug Appraisal
"Hasan Rug Specialists came to our home and compiled a written appraisal of our two oriental rugs. They explained to us in detail the history of each rug and why each rug was valued as it was. They were very thorough, informational and professional."
We are local, reputable rug appraisers who travel to you ourselves, servicing the New York and New Jersey Tristate area.We appraise rugs with a wide variety of conditions such as fire damage, smoke damage and water damage. We also service appraisals for loss due to theft or if you would just like the know the value of your piece. We also provide a photograph to accompany our appraisals. Each rug has its own value and identity, just like artwork.
Our appraisals are based on many factors, such as the origin of the rug, the size, description, quality, condition, etc.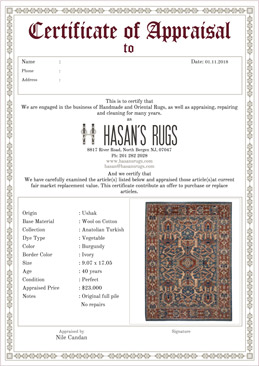 Certificate of Appraisal Example
Moe, Francisco, Jose and German are incredible. The best service I have ever received. Very professional. efficient, courteous and accommodating. I had a huge old rug to clean---the made it look like new. As part of their delivery, they moved heavy furniture and installed the rug perfectly. Looks amazing! This is the third time I am using their services and, as always, am very happy and satisfied.
Moe took care of me, even though I am not a customer. I had a rug that needed to be cleaned and I was not sure how to do it. They spent time and effort helping me out and you can tell that this business is run from heart.
They do very nicely work but are extremely expensive; do yourself a favor "shop around"
I went to Hasan's rugs to have my rug cleaned and washed. Please note - this did not include stain removal which is a separate process. At first, I was furious that there were two costly processes but they did such a good job washing the rug, that the stain was barely visible. They also did a good job managing me! Thank you Hasan's rugs!!