SEE ALL AREA RUGS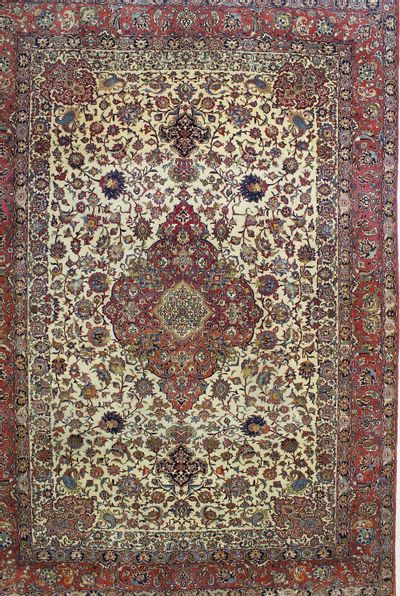 Isfahan #
402
$60,000
Checking available payment options
10′11″ x 15′7″

Traditional (Floral Designs)

Ivory

Red

Persian Collection
Traditional

Vintage

Wool on Cotton

Persian

Not Available
Isfahan Rugs
The Iranian city of Isfahan (also spelt Esfahan) has long been one of the centres for production of the famous Persian carpet (or rug). Isfahani carpets are known for their high quality. The most famous workshop in Isfahan is Seirafian.
Weaving in Isfahan flourished in the Safavid era. But when the Afghans invaded Iran, ending the Safavid dynasty, the craft also became stagnant.
Some Isfahani rugs became known in Western Europe as "Polish rugs". This name refers to carpets woven with silk, golden and silver threads in Persia during the 16th-18th centuries and exported to the Polish-Lithuanian Commonwealth. They were commissioned by wealthy Polish noblemen and decorated with their coats of arms. Some of them were later resold to West European buyers who were often convinced of their Polish origin, hence their name.[1]
Not until the 1920s, between two world wars, was weaving again taken seriously by the people of Isfahan. They started to weave Safavid designs and once again became one of the most important nexus of the Iranian Carpet weaving industry.
The city of Isfahan (Eşfahan) is now a world heritage site and produces what are arguably the most consistently fine wool pile rugs made anywhere in the world today. Their quality may be matched by individual items from the other major Persian workshop groups, but Isfahan produces far fewer poor quality rugs. Isfahani carpets today are among the most wanted in world markets, having many customers in western countries.
We offer the best oriental rug cleaning services
We strive to make your oriental rugs look like new by providing professional rug cleaning services. We carefully inspect and clean each rug, using the best equipment and eco-friendly cleaning solutions. All of our work is done in a fast and efficient manner, without sacrificing quality or durability.