SEE ALL AREA RUGS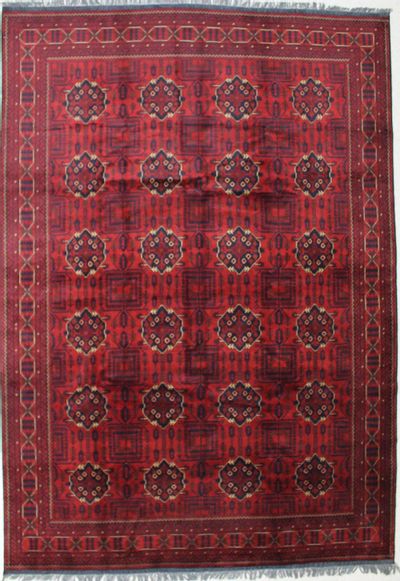 Kunduz #
404
$8,468
Checking available payment options
8′3″ x 11′8″

Tribal (Geometric Designs)

Red

Red

Anatolian Turkish Collection
Tribal Collection

New

100% Wool

Afghanistan

Not Available
Turkmen Rugs
A Turkmen rug (Turkmen: Türkmen haly; or Turkmen carpet or Turkoman carpet) is a type of handmade floor-covering textile traditionally originating in Central Asia. It is useful to distinguish between the original Turkmen tribal rugs and the rugs produced in large numbers for export mainly in Turkey and Afghanistan today. The original Turkmen rugs were produced by the Turkmen tribes who are the main ethnic group in Turkmenistan and are also found in Afghanistan. They are used for various purposes, including tent rugs, door hangings and bags of various sizes.
A few centuries back, almost all Turkmen rugs were produced by nomadic tribes almost entirely with locally obtained materials, wool from the herds and vegetable dyes, or other natural dyes from the land. They used geometrical designs that varied from tribe to tribe; most famous are the Yomut, Ersari, Saryk, Salor, and Tekke. Irregularities — considered part of the charm by many rug collectors — were fairly common since natural materials varied from batch to batch and woolen warp or weft may stretch, especially on a loom that is regularly folded up for transport and set up a new at another camp.
More recently, large rug workshops in the cities have appeared, there are fewer irregularities, and the technology has changed some. Since about 1910, synthetic dyes have been used along with natural ones.The size of nomadic rugs is limited to what can be done on a nomad's portable loom; larger rugs have always been produced in the villages, but they are now more common. Using cotton for warp and weft threads has also become common.
We offer the best oriental rug cleaning services
We strive to make your oriental rugs look like new by providing professional rug cleaning services. We carefully inspect and clean each rug, using the best equipment and eco-friendly cleaning solutions. All of our work is done in a fast and efficient manner, without sacrificing quality or durability.