SEE ALL AREA RUGS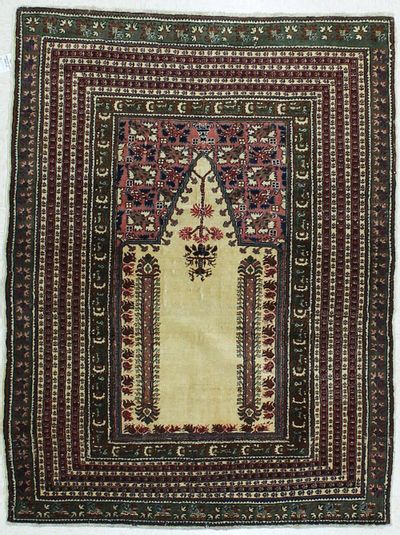 Kayseri #
426
$2,400
Checking available payment options
4′2″ x 5′5″

Tribal (Geometric Designs)

Green

Red

Anatolian Turkish Collection
Tribal Collection

Old

Wool on Cotton

Turkey

Not Available
• Kayseri (Kayseri, Avanos, Ürgüp, Kırşehir, Mucur, Ortaköy, İncesu)
Kayseri rugs are distinguished by their fine weaving which characterizes the manufactory production, which is prevalent in this area. The rugs are produced mainly for export, and imitate designs from other regions. Wool, silk, and artificial silk are used. The top products of the Kayseri manufactures come very close to those from Hereke and Kum-Kapı. Ürgüp, Avanos and İncesu are Cappadocian towns.
Carpets from Avanos, often in prayer rug design, are distinguished by their dense weaving. Typically, an elaborate pendant representing either a Mosque lamp or a triangular protective amulet ("mosca") hanging from the prayer niche adorns the field. The prayer niches are often stepped, or drawn in at its sides in the classical "head-and-shoulders" shape. The field is often in bright red, and surrounded by golden yellow spandrels and borders. The fine weaving allows for elaborate ornamental patterns, which make the Avanos carpet easy to identify amongst other rugs.
Ürgüp carpets are distinguished by their colours. Brown-gold is dominant, bright orange and yellow are often seen. A medallion within a medallion frequently is set into the field, which is of a typical "Ürgüp red" colour, adorned with floral motifs. Palmettes fill the corner medallions and the main borders. The outermost secondary border often has reciprocal crenellations.
Rugs from Kırşehir, Mucur and Ortaköy are closely related, and not easily distinguished from each other. Prayer and medallion designs are woven, as well as garden ("mazarlik", or "graveyard") designs. Pale turquois blue, pale green and rose colours are prevalent. Rugs from Ortaköy show a hexagonal central ornament, often including a cruciform pattern. The borders show stylized carnations arranged in a row of square compartments. Mucur carpets often show a stepped "prayer niche within a prayer niche" design, with contrasting bright madder red and light indigo colours separated by yellow outlines. The borders are composed of rows of squares filled with geometric diamond or rhomboid patterns. Mucur and Kırşehir are also known for ther multiple-niche prayer rugs, or "saph".
We offer the best oriental rug cleaning services
We strive to make your oriental rugs look like new by providing professional rug cleaning services. We carefully inspect and clean each rug, using the best equipment and eco-friendly cleaning solutions. All of our work is done in a fast and efficient manner, without sacrificing quality or durability.