SEE ALL AREA RUGS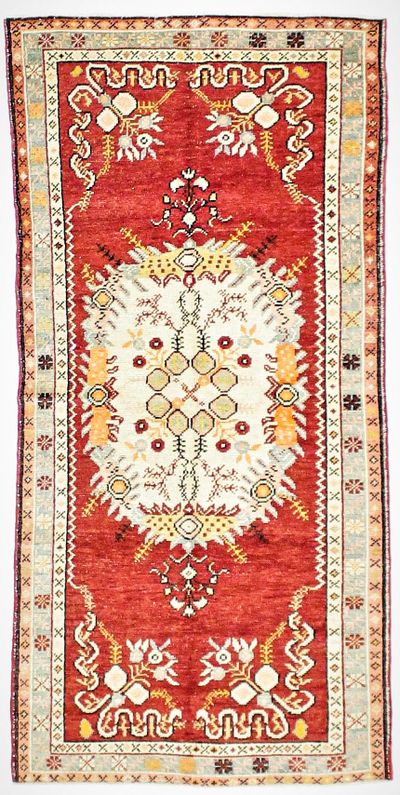 Konya #
52
$1,822
Checking available payment options
3′4″ x 6′10″

Tribal (Geometric Designs)

Red

Ivory

Anatolian Turkish Collection
Antique Collection
Tribal Collection

Old

100% Wool

Turkey

Available
Konya Rugs
In 1292, Marco Polo was the first to make mention of the Konya carpets in writing when he called them the most beautiful in the world. Konya carpets are named for the region in which they were made. Renamed from the Greek "Iconium" when the Seljuk Sultans of Rum made it their capital, Konya is one of the largest, oldest and continuously occupied cities in Asia Minor.When Polo wrote of the Konyas, he had probably seen them in manufactories that were attached to the Seljuk courts. In the early 20th century, large carpets were found in the Alaadin Mosque in Konya; they are now housed in the Museum of Turkish and Islamic Arts in Istanbul.Scholars and collectors alike, primarily for their bold tribal designs and magnificent color combinations not to mention their rarity, covet Konya rugs.
Konya rugs are prized for their luxurious wool, which comes from the rural areas surrounding the city. The wool from these regions is known to be some of the richest worldwide.
Older pieces are characterized by the restraint towards color combinations and their use of earth tones (most notably: soft yellow, terracotta and browns). The wefts of the Konya rugs are always red, distinguishing them from other Persian carpets. The Nomadic pieces within this genre usually have a foundation of dark wool or goat hair.
Incorporated within Konya carpets are hexagonal and basic figures. These patterns are tribal motifs. Geometries are either arranged in neat rows or staggered throughout the field. A common geometric motif is the "Memling gul", a geometric medallion patterned throughout the carpet.These rugs also feature a fairly loose knotting technique.
We offer the best oriental rug cleaning services
We strive to make your oriental rugs look like new by providing professional rug cleaning services. We carefully inspect and clean each rug, using the best equipment and eco-friendly cleaning solutions. All of our work is done in a fast and efficient manner, without sacrificing quality or durability.